One-Time File Purges: As-Needed Records Destruction, the Easy Way
---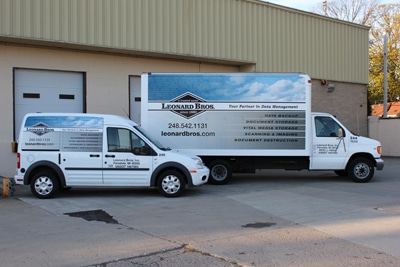 Periodically, businesses need to destroy records stored onsite at their facilities. There are many possible reasons:
Your records have reached the end of the required retention period
You need to maximize your available space to use it for revenue-generating activities
You want to sublease space currently used for file storage
You are relocating, and want to move as little as possible
Whatever the reason, when you're ready to purge your records, it's important to dispose of them completely and securely, so the information they contained cannot be resurrected.
We Handle the Destruction, You're Free to Stay Focused on Your Business
At Leonard Bros., our one-time shredding services give you the ability to destroy unwanted records quickly and securely, whenever you wish, without investing your time and your staff to complete the task. We can either drop off locked purge bins in advance of your project or simply pick up the boxes of documents you wish to shred on an as-needed basis and transport them to our facility for complete, secure destruction.
Just Call When You're Ready, and We'll Be There
Once you've determined the documents you wish to purge, simply call us and we will send our trained staff members to pick up and transport your documents to our facility for shredding, maintaining chain of custody throughout. Once the process is completed you will be provided with a Certificate of Destruction, giving you a complete audit trail for your records.
To request a quote for our one-time shredding service, or for expert advice on the most efficient way to tackle your purge, please call us or complete the form on this page today!  We'll be glad to help with all of your record's destruction needs.