Records Storage Management Services
Storing and Managing Your Records Properly is a Business Imperative
---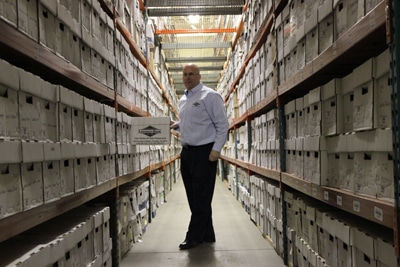 It's not just important to have a secure and cost-effective storage solution that enables you to preserve and locate your critical business records—it's required. State, federal and local laws and regulations dictate what information you need to retain and for how long, and an audit may require you to produce requested information in a timely manner. And for your business continuity and operations, you must be able to quickly locate and access the current and historical information you need.
Full-Spectrum Records Storage and Management Services
At Leonard Bros., we provide everything you need to securely store and manage all of your critical business information:
We employ stringent security protocols every step of the way to shield your privileged information from prying eyes at all times, combined with full compliance support, including chain-of-custody and audit trail procedures. We have completely secure, climate-controlled facilities designed to maximize the life of your records. And you can view and manage your inventory anytime, 24/7/365, and request prompt, secure delivery of anything you need online via our secure web portal.
Put Our Expertise to Work for Your Business
Leonard Bros. records storage and management services will save you money on the cost of expensive office space by giving you a more cost-effective off-site alternative and will save you the valuable time you can spend on revenue-generating activities instead of searching for and managing records.
To learn more about how our records storage and management services can help you operate more efficiently and securely, and save you money versus on-site storage, please call us or complete the form on this page today. We'll be glad to answer all of your questions, and to put our knowledge and experience to work for you!